What options are available outside of school hours and for children under 4?
The general term for childcare in the Netherlands is kinderopvang . The Netherlands has no formal educational provision for children until the age of four, when they can begin primary school. Outside the formal educational system there are, however, childcare facilities for younger children and after-school facilities for school-age children. In the Netherlands childcare is seen as a matter of common interest and is the shared responsibility of parents, the government and employers.
It can be difficult to decide which kind of child care best suits your family. It is a personal choice and each option has its pros and cons, pricewise and in the way that they take care of the children. Your choice also depends on which day and which moments of the day you are in need of childcare.  
Here are some facts to make your decision a bit easier.  
| | |
| --- | --- |
| Day care and after school care | Host parents, babysitters, nannies and au pairs |
| Bigger groups  | Small groups/only your children |
| Opening hours only on weekdays (mostly 7:30-18:30) | 24/7 childcare possible |
| Children need to be brought and picked up from facility | At your own home |
| Childcare benefit possible | Only possible with a host parent  |
| Possible waiting lists | Flexible timing |
| Childcare educated teachers |   |
| Your child gets used to being away from home in preparation of school |   |
Daycare and preschool by New2NL
Do you have a child aged zero to four, and do you live in, or will you be relocating to, the Netherlands?
Our partner New2NL has made a video in which she explains all your childcare options: daycare, preschool, childminder (also known as 'gastouder' in Dutch), and au pair. After watching this video, you will feel more confident about taking the right decisions.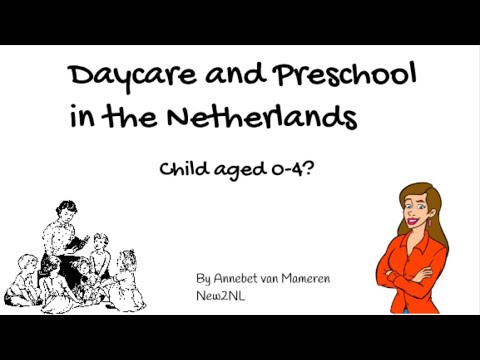 Find out more about childcare in the Leiden region